I am a huge fan of Abigail Ahern, and was delighted when her collaboration with Debenhams included some of her funky animal lamps. I had been looking for a lamp for our bedroom for a while and had decided on something with a woodland feel to go with our Woods wallpaper by Cole & Son. I actually discovered the hare lamp at about the same time that I started spotting a real hare hanging out in the field behind our house, so it seemed appropriate to represent him in our décor indoors. This lamp version is just as cute – flocked light grey and soft enough to stroke! Of course I had to give him a name: Giorria (the Irish word for hare).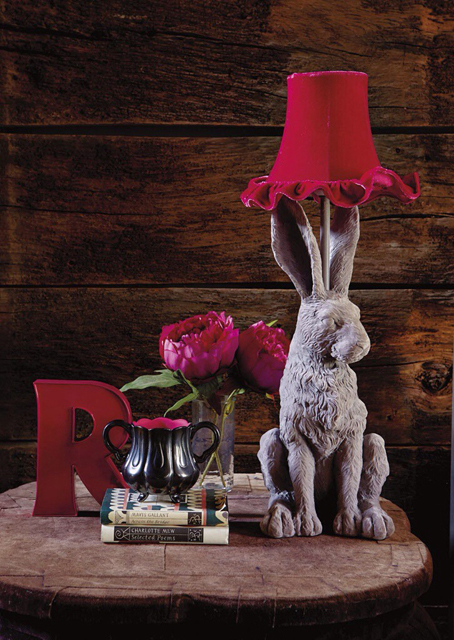 At the time, much of Ahern's work featured bold colours that really pack a punch in the dark interiors that have become her signature, and the hare lamp came with a bright fuchsia velvet lampshade. Unfortunately, this colour wouldn't work at all in our bedroom, so I decided to find Giorria a new hat. I looked a lot online, but couldn't find anything like what I had in mind. So, as I usually do in such cases, I decided to make it myself.
PIN THIS!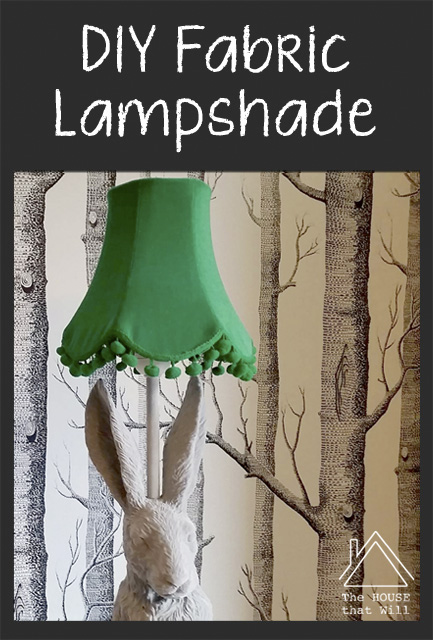 Follow The House that Will
Facebook | Instagram | Bloglovin'
Materials
Lampshade frame
Fabric for the outside and lining (can be the same colour, or let your imagine run riot with patterned linings!)
Ribbon e.g. grosgrain
Trim for the bottom (optional) - I used a matching pom-pom trim
Paper
Pencil & eraser
Paper scissors
Sticky tape
Sewing machine
Fabric scissors
Hand-sewing needle
Pins
Curved sewing needle
2x Thread - one to match your fabric, and one that contrasts with it
Steam iron
Sleeve board or tailor's ham (optional)
I didn't want to ruin the original lampshade by recycling the frame, so I looked online to find one of a similar size and shape as I still wanted to stay as true as possible to the original design of the lamp. I found a used one on Etsy that was perfect – it was the same size and, even better, it had scalloped edges, which I love. One thing that I hadn't considered until after it arrived in the post and I had actually tried it on, was the position of the fitter inside the frame: the new lampshade actually sits a little higher than the original one. At first I was disappointed about that, but after a while I thought it was nice that I could see a bit more of Giorria's ears and face.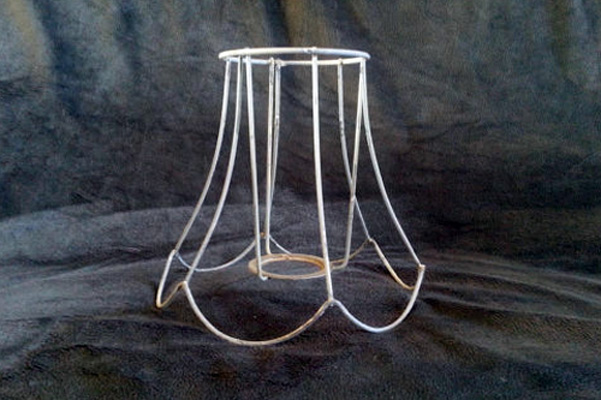 By the way, if you are making your own lampshade, it is a good idea to learn about the anatomy of a lampshade so that you know exactly what to look for when shopping. I found this great resource here: Tips to Buy a Lampshade that Suits Your Lamp.
For the fabric, I decided to go with velvet, like the original, but this time in an emerald green colour with a matching lining fabric for the inside. The original lampshade had ruffles along the bottom, but I decided to add my own twist by adding a pom-pom fringe.
Construction
I started by making a paper pattern. To do this, I taped a piece of sturdy paper onto one face of the frame and traced the shape of the panel onto it.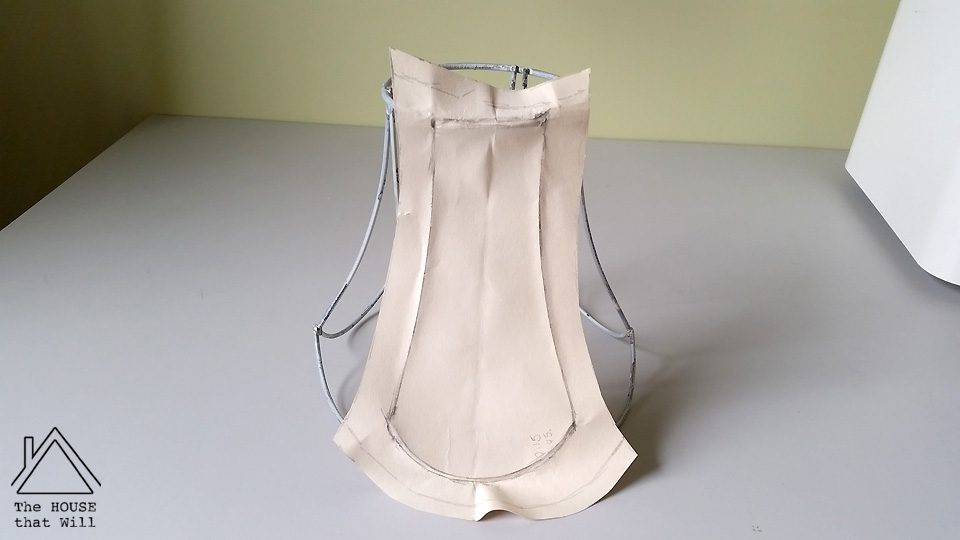 I cut that out, then folded it lengthwise and neatened the shape to make sure that it was symmetrical.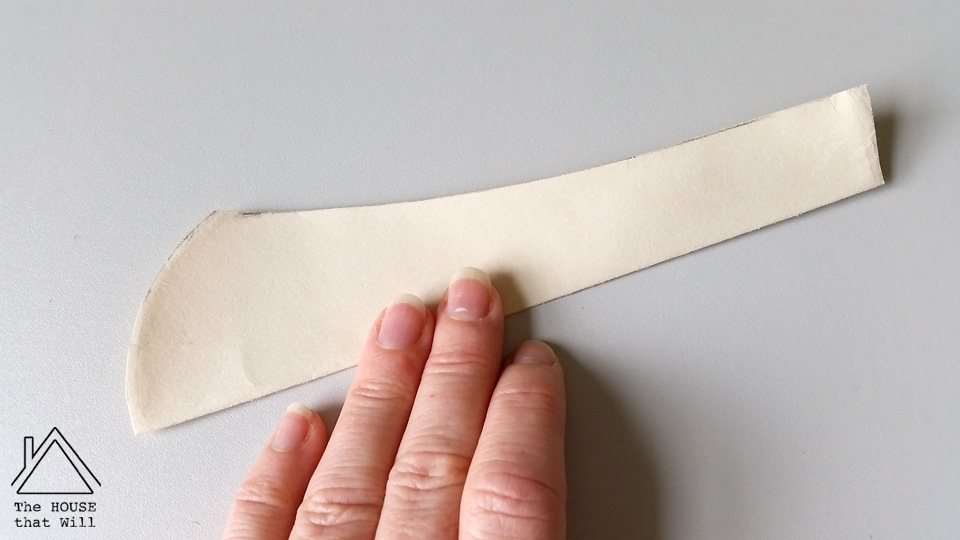 Then I re-traced that onto a piece of tissue paper and added a seam allowance.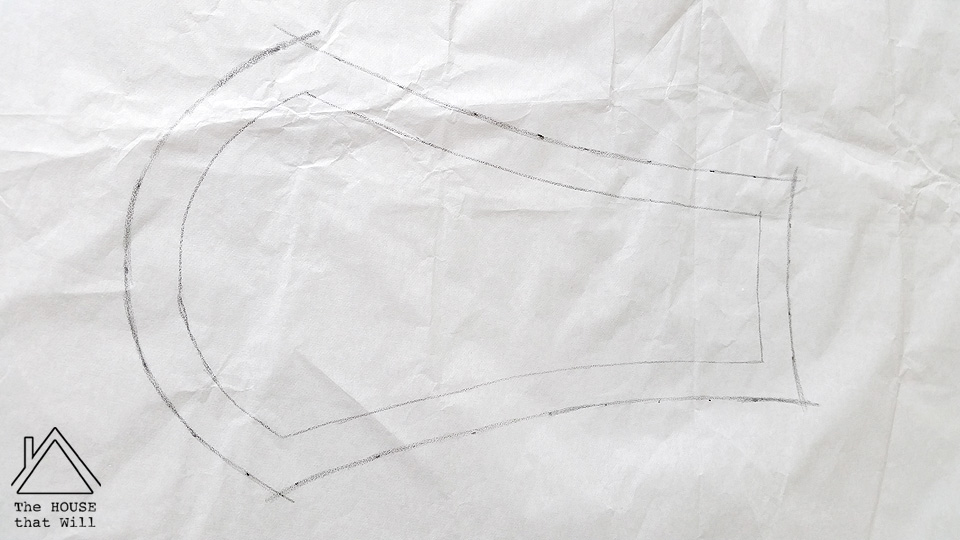 I used the pattern I'd made to cut six panels from each fabric (outer fabric and liner).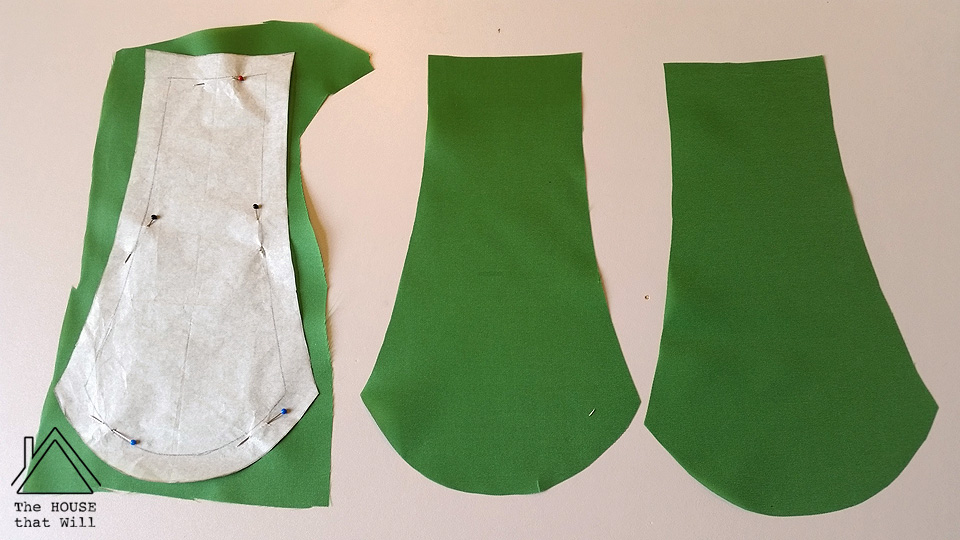 Then I sewed the panels together to make an outer sleeve and a liner.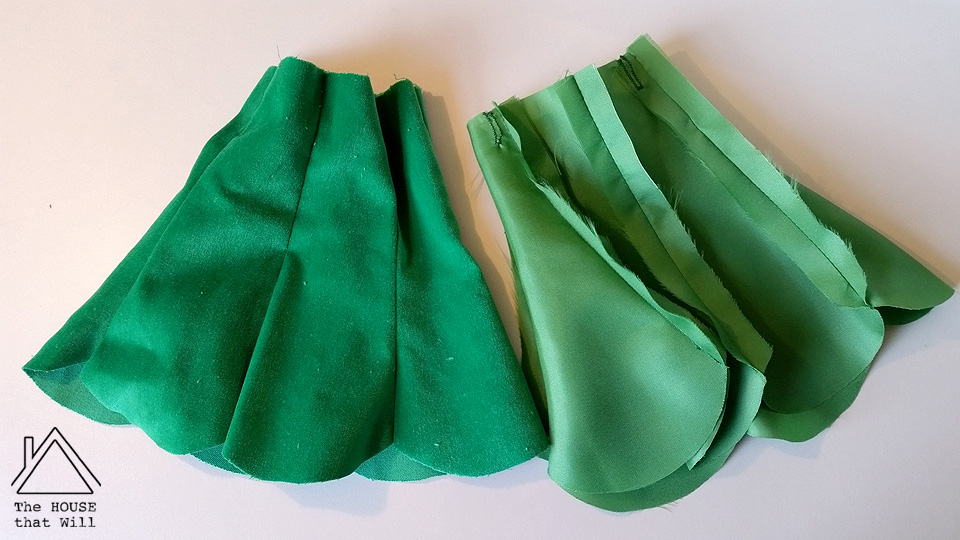 I pressed the seams using the handmade sleeve board that I bought at an Amish store in Ohio. It's like a mini ironing board, and is so handy for little projects like this. You could also use a tailor's ham if you have one.
Because the top of the outer fabric folds over the lampshade frame and would be visible when looking down on the lamp, I stitched a grosgrain ribbon along it to hide the raw edge of the fabric. It is easier to do that now using the sewing machine than to try to do it later by hand when working within the tight confines of the lampshade.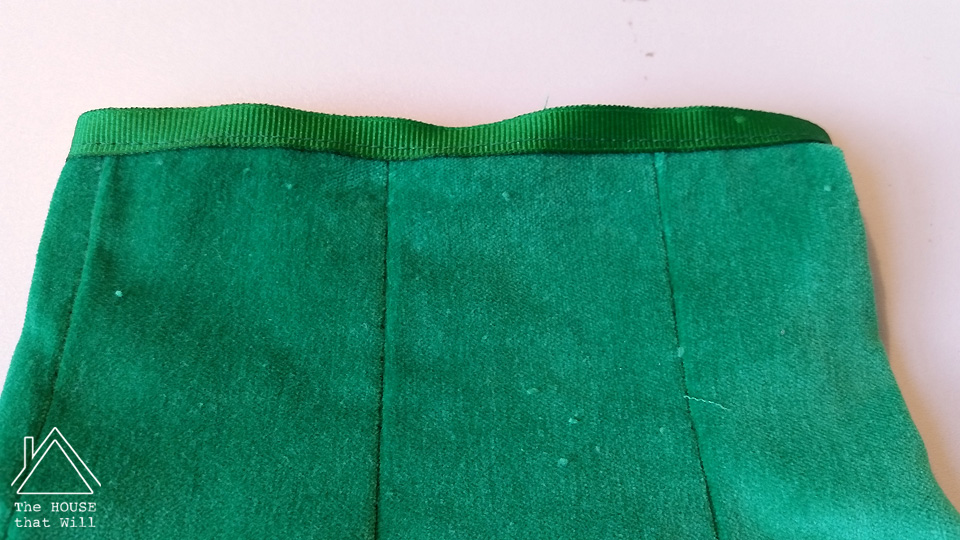 I had to make slits in the top of the lining fabric to allow for the lampshade fitters. I used the buttonhole setting on my sewing machine to reinforce the edges. Do the stitching first, and then cut the slit open (I cut right through the buttonhole stitching at the top edge as that part wouldn't be exposed). If your machine doesn't have a buttonhole function, you can also do a buttonhole stitch by hand (see how to do that here). You will see in a moment how these slits help when fitting the fabric to the frame.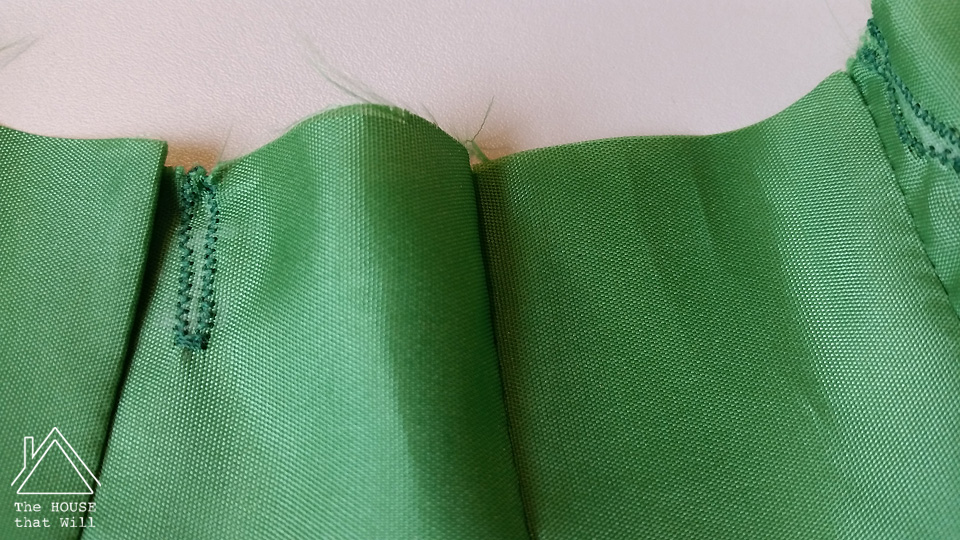 Now it was time to start assembling everything. I started by pinning the seams of the lining fabric onto the lampshade frame until the general shape was right.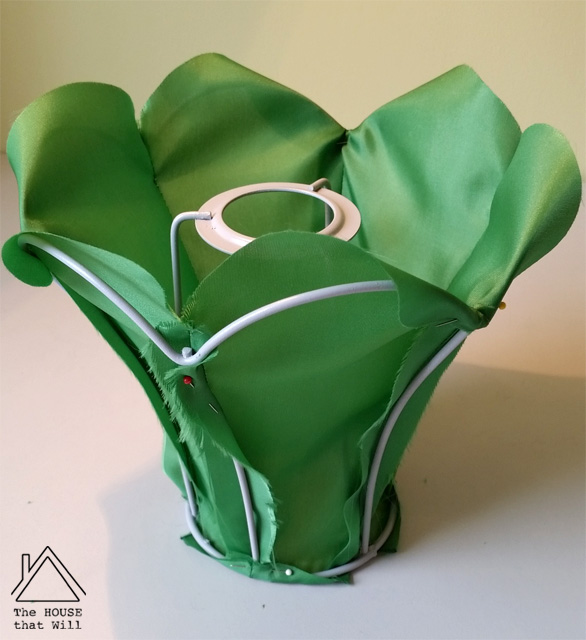 Then, to hold it more firmly in place, I tacked it into position along the top and bottom edge. Tacking (or basting) involves using large, temporary stitches to hold something in place until it can be permanently sewn. Using a thread of a contrasting colour makes the stitches easier to find afterwards and to distinguish these temporary stitches from your finished work that you want to leave in place.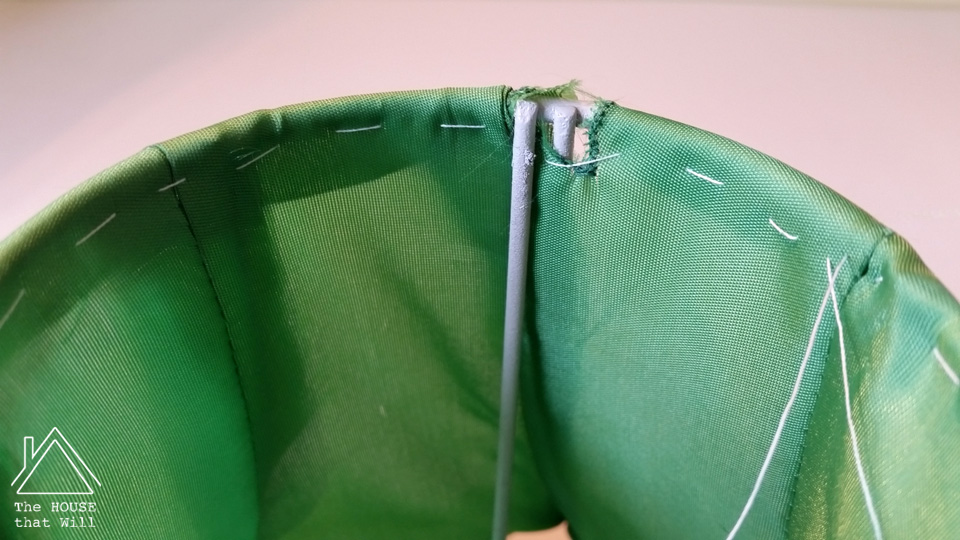 That photo of the top of the lampshade also shows where those slits I made allow the fabric to fit around the lampshade fitter. The bottom edge was easier to do because there were no such obstructions in the way.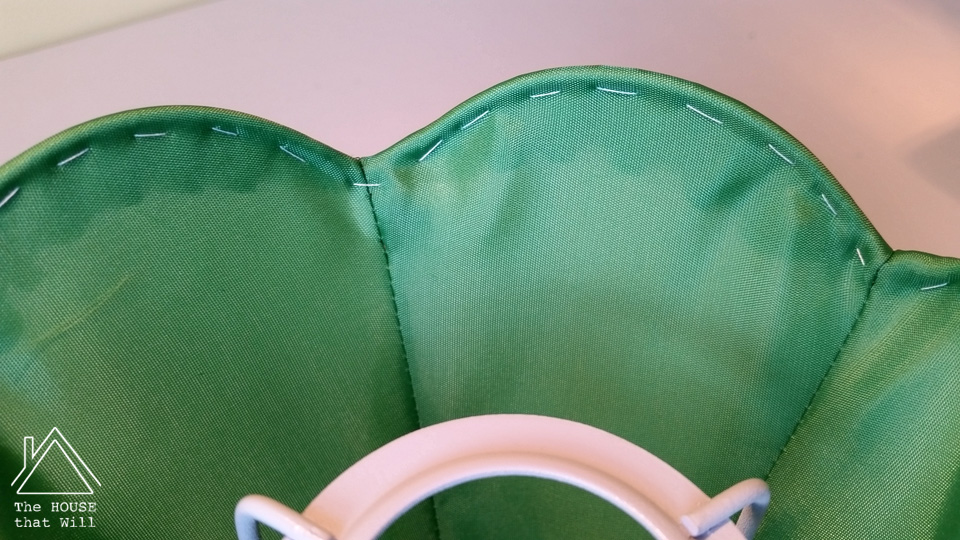 When attaching the outer fabric, I started at the top by tacking through all the layers of fabric so as to hold everything together securely.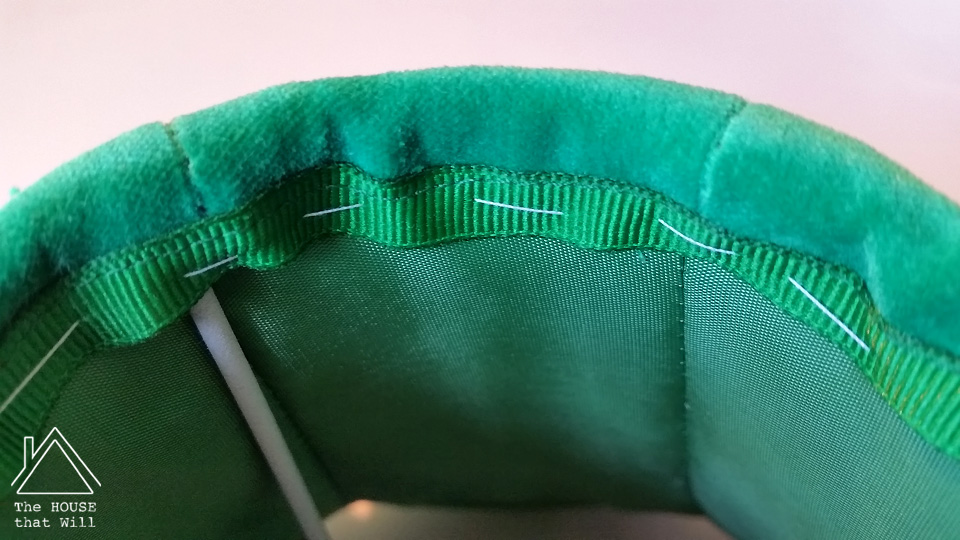 At the bottom, I tucked the raw edge inside and temporarily stitched it into place using a whip stitch (or overcast stitch).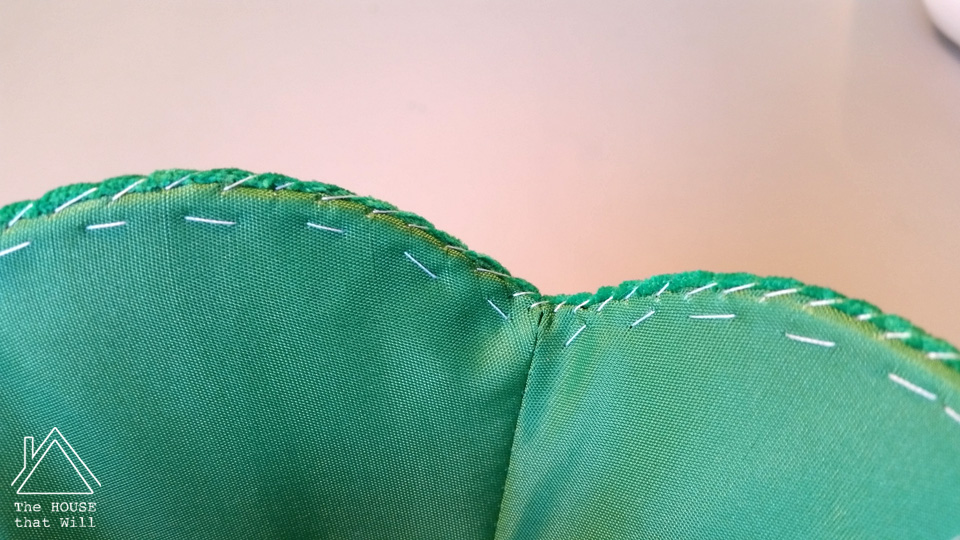 Once I was happy with how the fabric fit over the frame, I permanently stitched the bottom edges of the outer fabric and the lining together. Again, I did this by hand using a whip stitch (overcast stitch). It is difficult to see those stitches in this photo because I used a thread that would blend in. But they are there! When I was finished, I ripped out the temporary stitches.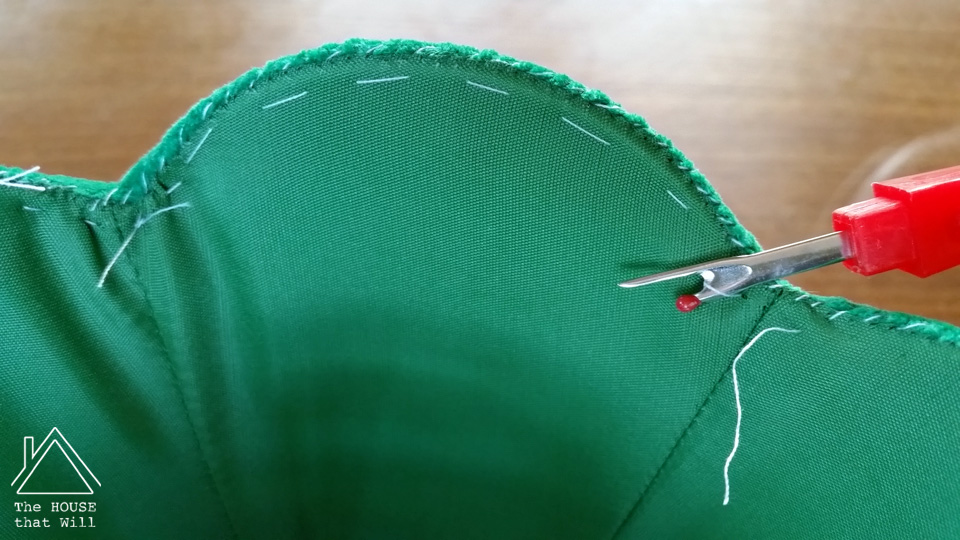 It looks so much better with all the tacking stitches removed.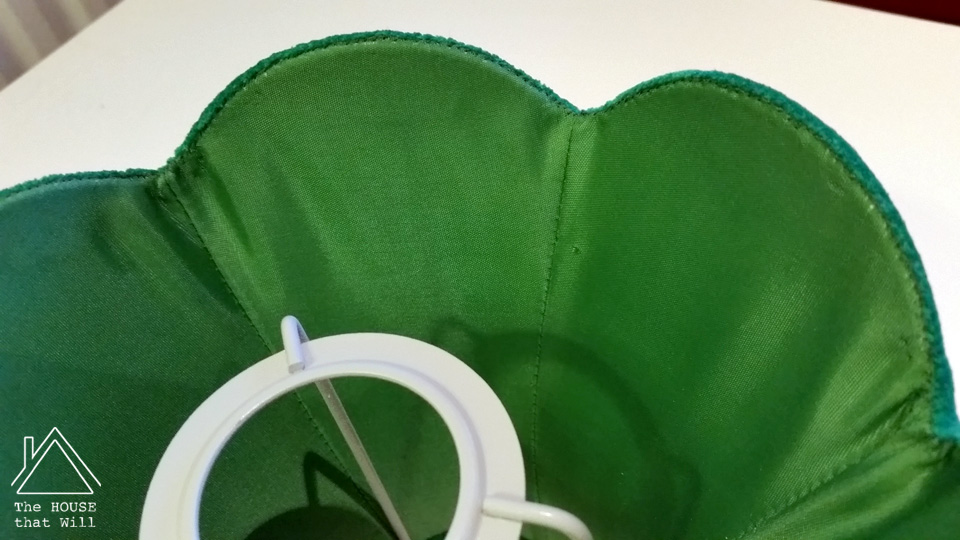 The top of the lampshade was so tiny and was a tricky space to work in, but using a curved needle made the task much easier. Using a hemming stitch, I sewed the grosgrain ribbon onto the lining fabric only (and not through the outer fabric) because I didn't want the stitching to be visible from the outside.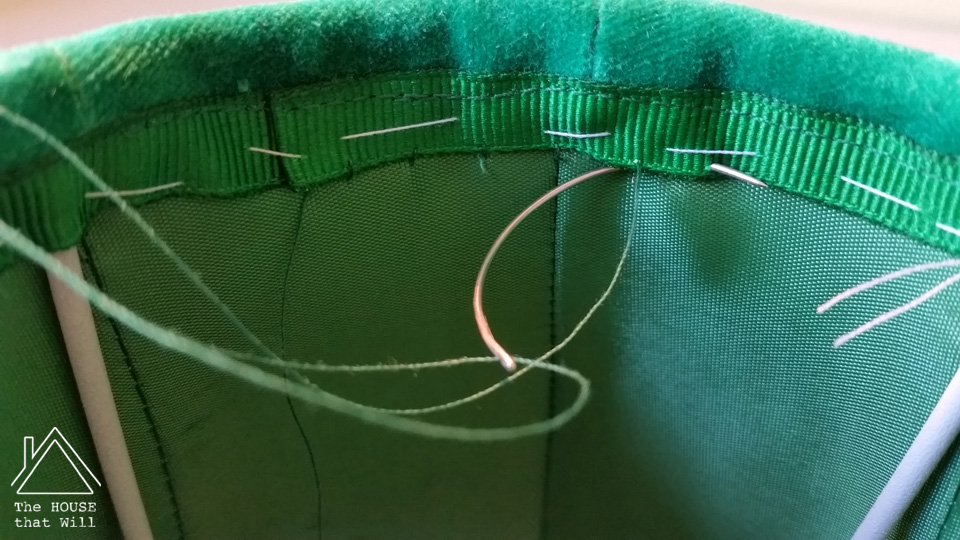 Finally, I handstitched the pom-pom trim around the bottom edge.
Giorria has a new hat. I hope he likes it as much as I do!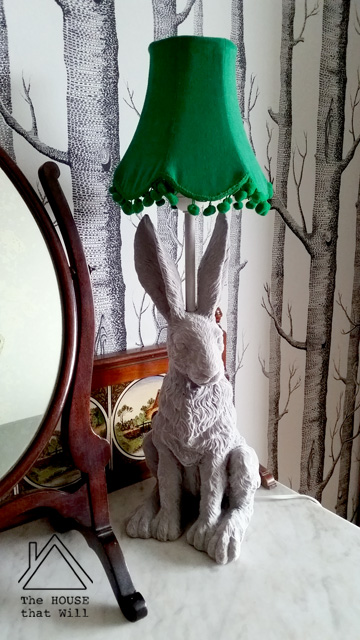 One of my favourite things about it are the shadows cast by the pom-poms when the light is switched on.
If Abigail Ahern ever reads this (actually I think I might faint with excitement if I thought she read my blog!) I really hope she doesn't mind that I gave her hare a new hat!