These are probably some of the most "raw" before pics of a home decor project you are ever likely to see! Most of the rooms in our house have had at least some cursory work done on them, but there are a couple of exceptions: non-essential, nice-to-have rooms that we have just shut the door on and pretended that they don't exist for now. I sometimes joke with Hubby that when we finally finish those rooms and can open the doors to them, it's going to feel like we extended the house! One such room is our ensuite shower room - and its time has finally come.
I'm kinda embarrassed to show these photos, but let's get real. This is how the ensuite has looked ever since we moved in. Basically not much different to how it looked when we bought the house. If you want to see those photos, check out the 'Before' House Tour.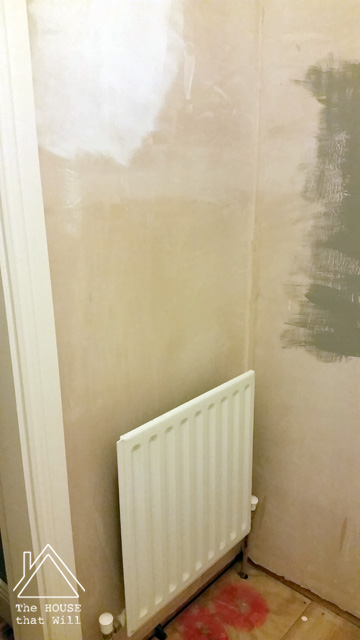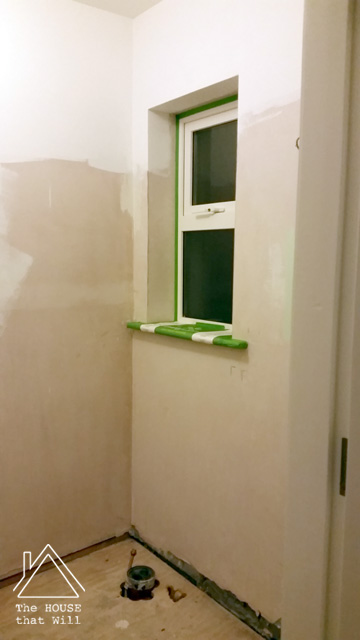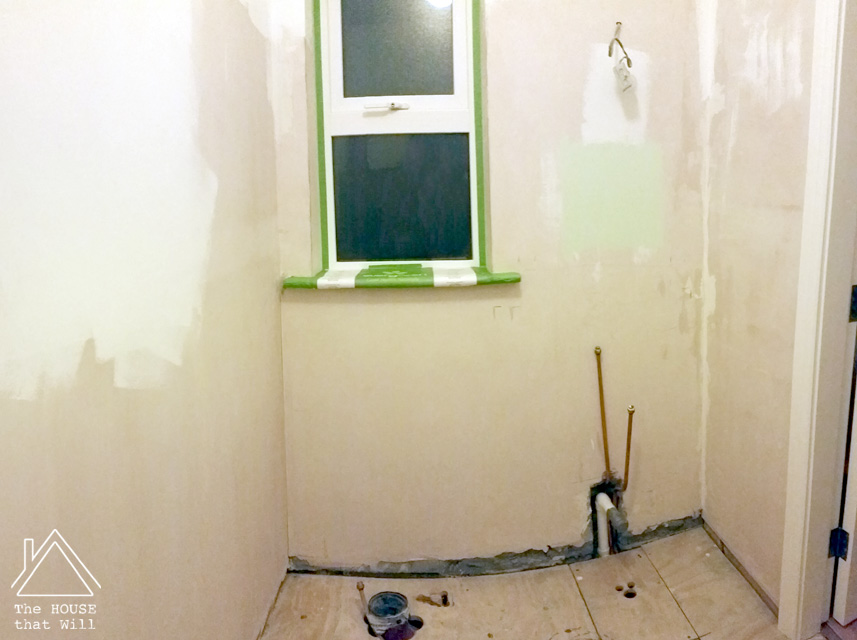 We did buy a suite for here, including a shower, shower enclosure, toilet, sink and sink unit (vanity), as well as a matching storage cabinet that we no longer like or want to use. Lesson learned: don't buy stuff for a room unless you are actually working on that room. You will probably change your mind in the meantime. Anyway, all that was just stored in the room while we got on with work elsewhere in the house.
The room was originally intended to have a pedestal sink, but we wanted one with a storage unit underneath it, so we had the plumbing moved from the floor onto the wall behind.
The only other progess that had been made in the meantime was that I had painted the woodwork at the same time that I was painting the bedroom. So there was clean, white, semi-gloss woodwork in here instead of that ugly knotty pine. 
We did have a plain white roller blind fitted in the window, but I removed it before taking these pics as I had just started to prep for painting. That's why there's green masking tape around the window. You can also see where we tried out different paints on the walls down the years as we tried to make a decision as to what colour to go with in this room. As of yet, we're still undecided! So stay tuned for more on that coming up. 
Follow The House that Will
Facebook | Instagram | Bloglovin'
Preparation
To get started on this project, I first put a mist coat on the bare plaster walls. If you have been following the progress on our Loo Makeover downstairs, you will have seen the Problems with Paint that can arise when this vital step is missed. We certainly weren't going to make that mistake twice!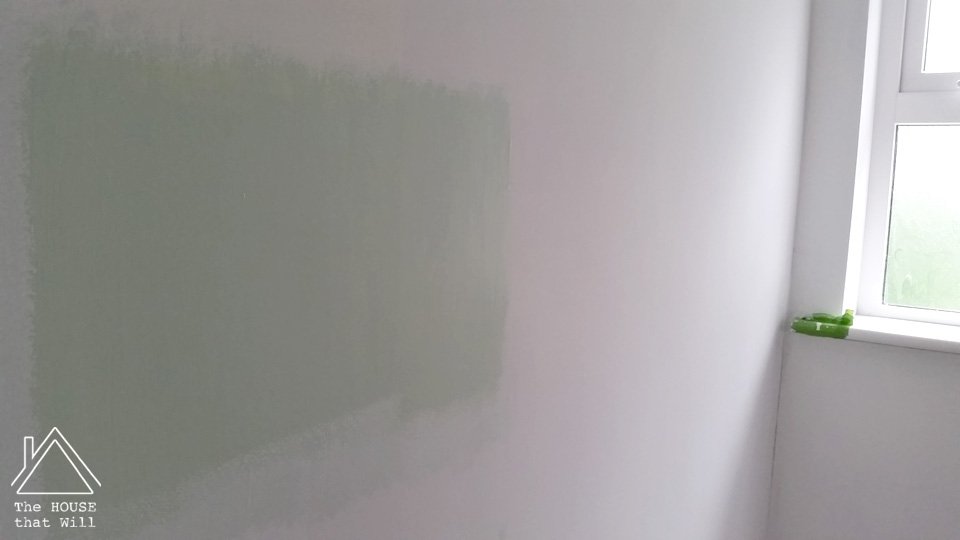 The Plan
In this room, we need to ...
Mist coat over the bare plaster

Paint ceiling
Choose wall colour and paint walls
Move the radiator
Tile shower enclosure and lower half of walls all around
Tile floor
Plumb in the shower
Install the shower enclosure
Move the wiring for the wall light 
Install the splashback
Fit the wall light
Plumb in the toilet
Plumb in the sink
Decorating & finishing touches
Obviously, there's tons of work to be done in this room, and I'll be sharing our progress as we go - everything from the DIY tiling and plumbing to choosing the colours and overall style for the room. Do stay tuned! 
Other posts in this series: