Six weeks of planning, scrubbing, painting, sewing, and accessorising have come to fruition and it's time to reveal my "new" craft room!
My craft room is like the engine room of a ship when it comes to our home because it's where I make all the Roman blinds, curtains, and cushion covers for the house. It's also where I keep all the bits and bobs I use for my hobbies, which are mostly textile-based: sewing, crochet, lace making. I consider it a luxury to have a whole room dedicated to these passions, but I definitely hadn't been making the most of the space until now. With the addition of extra storage and a completely overhauled workpace, my craft room is now an efficient workroom and also a pleasant place to be.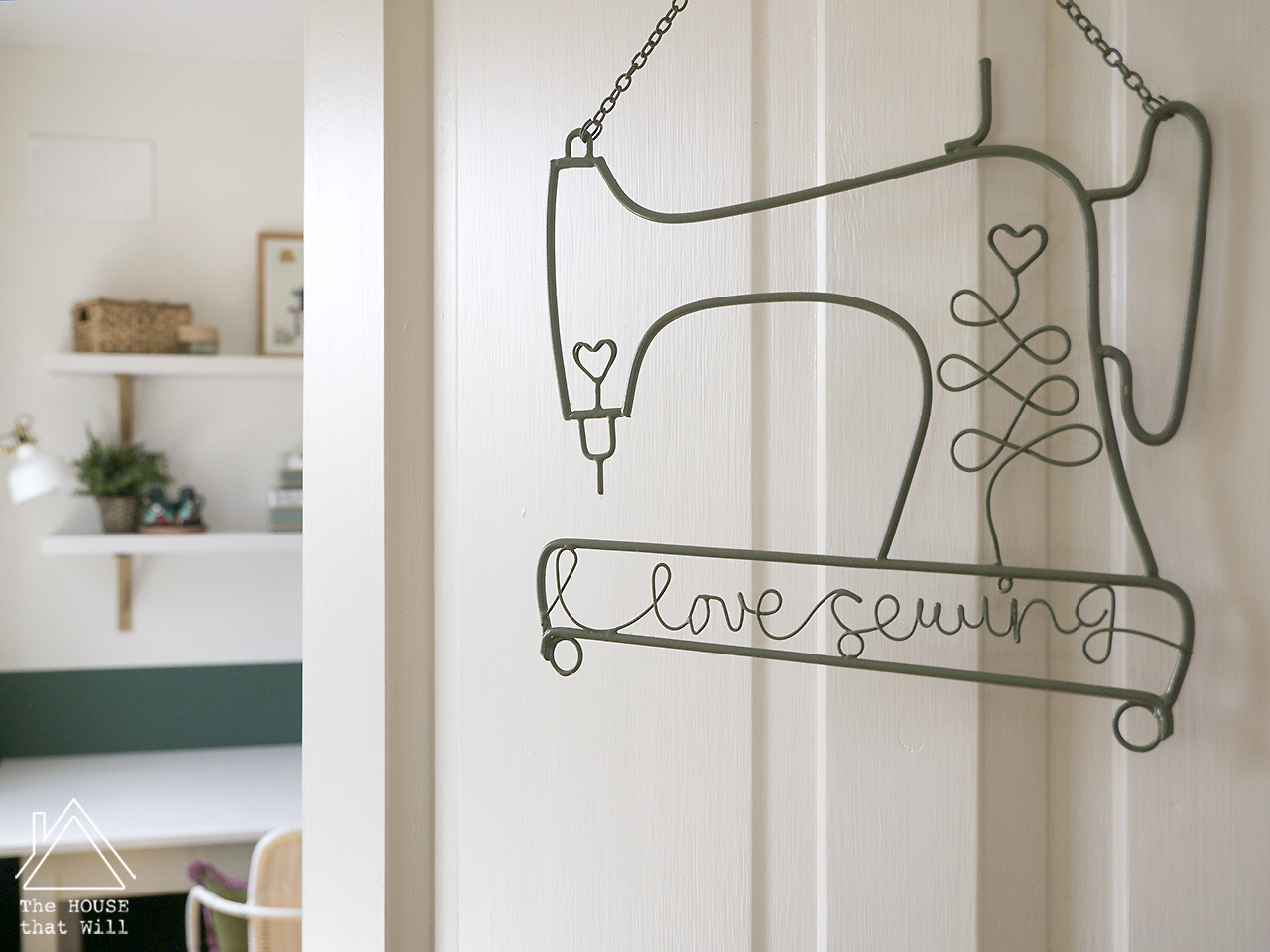 Decor
I started by stripping the old wallpaper mural off the wall, and giving it a fresh new two-tone colour scheme of dark green and a warm off-white.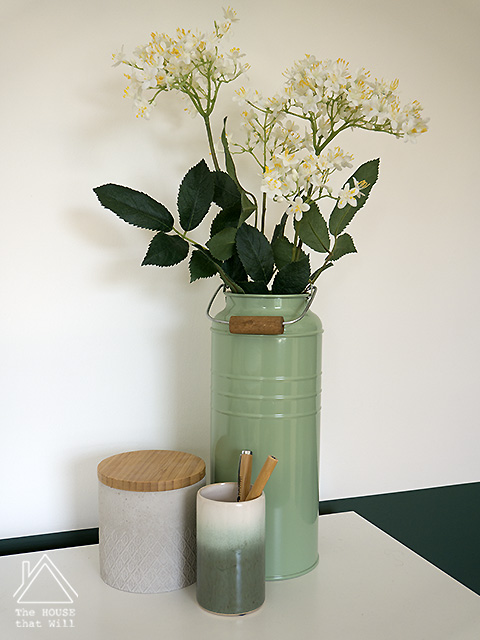 I used the same dark green colour on the skirting boards (base boards); just in a satin finish rather than an emulsion. I like how it gives a more streamlined look to the room to have the skirting boards blend into the wall colour.
Window Treatment
I removed the boring white roller blinds and made new Roman blinds with a gorgeous fabric I found online. The design is called Ringo Talia and features a flamingo print in a retro graphic style and large fronds of green foliage.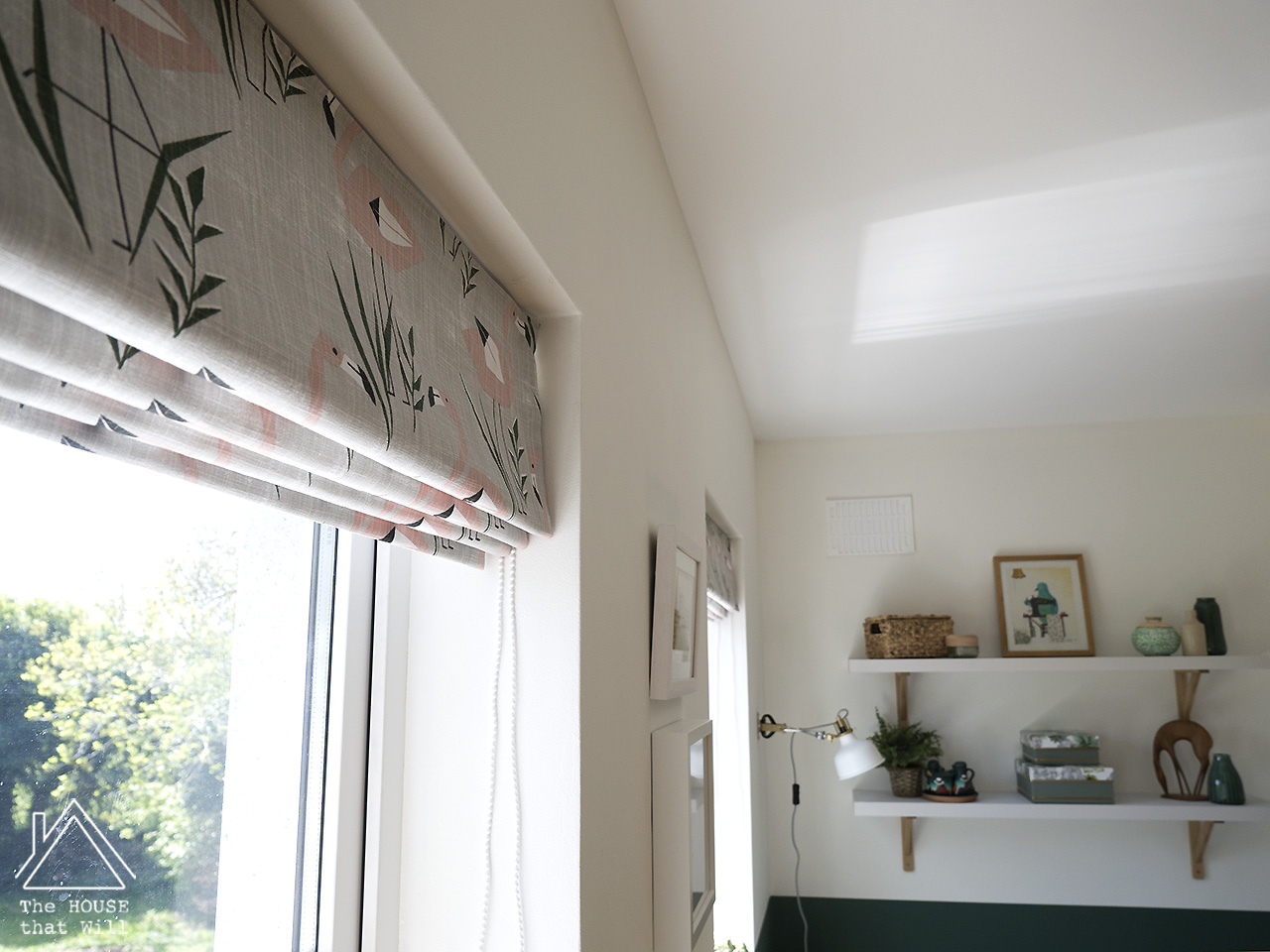 Follow The House that Will
Facebook | Instagram | Bloglovin'
Storage
I removed the sofa bed from the room and replaced it with additional storage for my craft materials. I used the Tomnäs unit from Ikea, filled with storage baskets to bring some interesting texture to the room.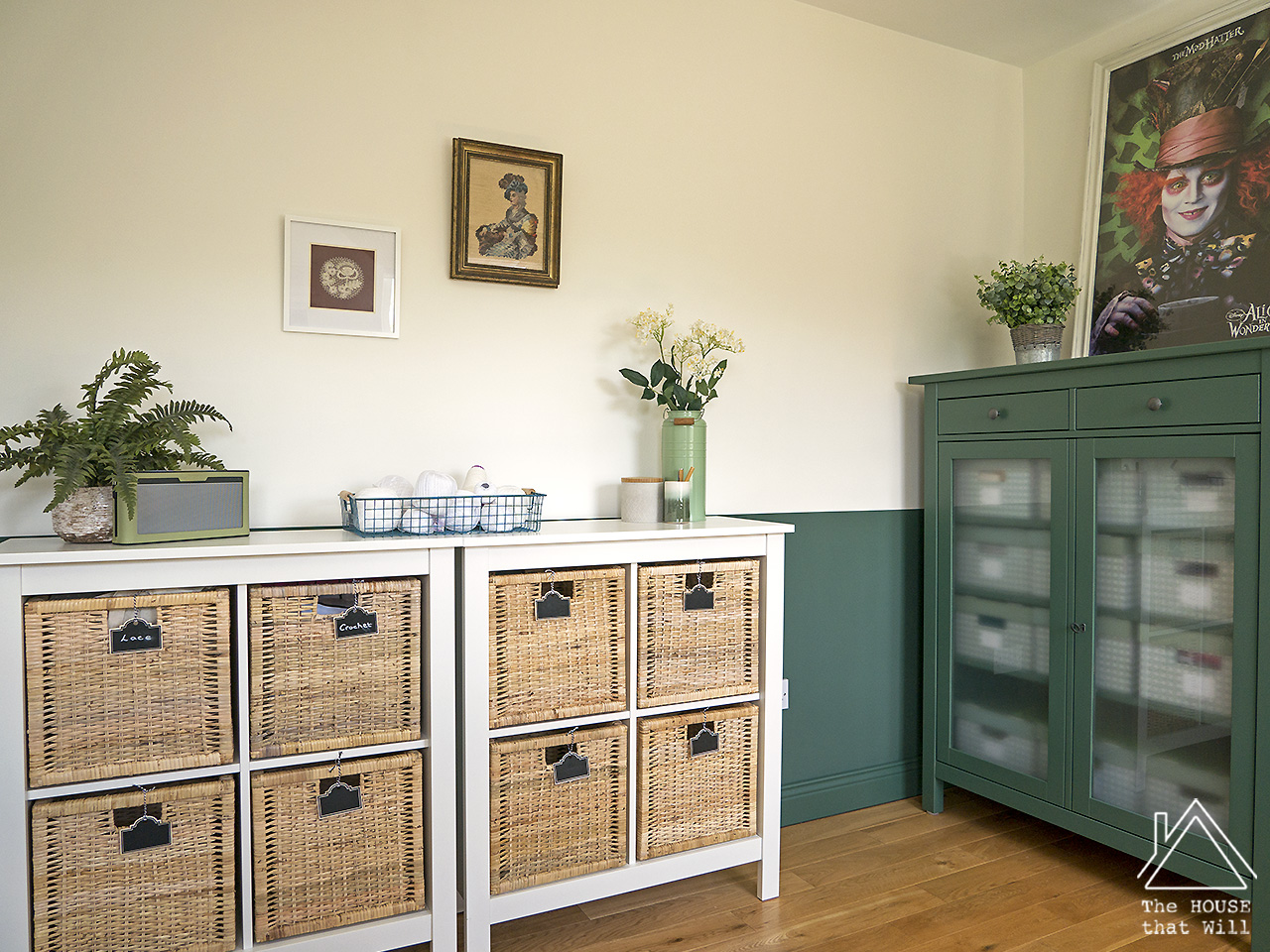 Then I added little chalkboard labels to keep everything organised.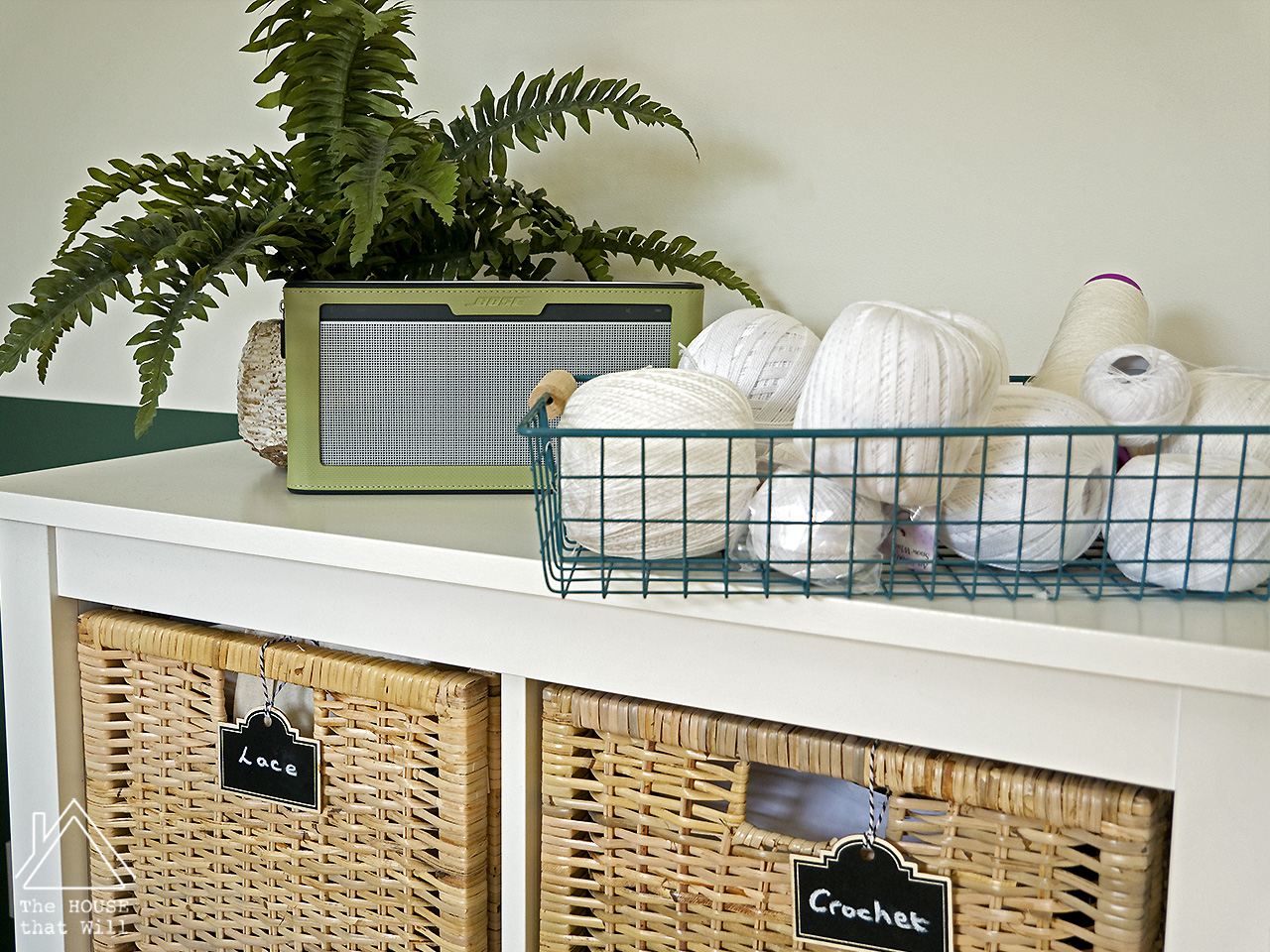 I upcycled a storage unit I already had in the room, painting it the same dark green as the walls.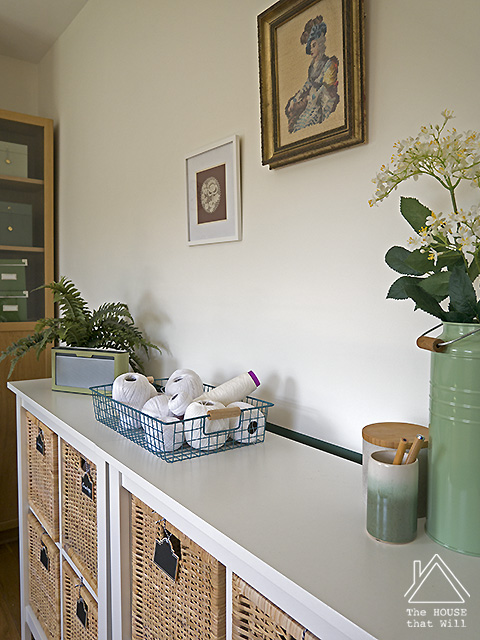 The tall bookcase in the alcove stayed, as did the vintage blanket box. Unfortunately, the new fabric I ordered to recover it didn't arrive yet, but this new cushion from TK Maxx certainly gives it a lift.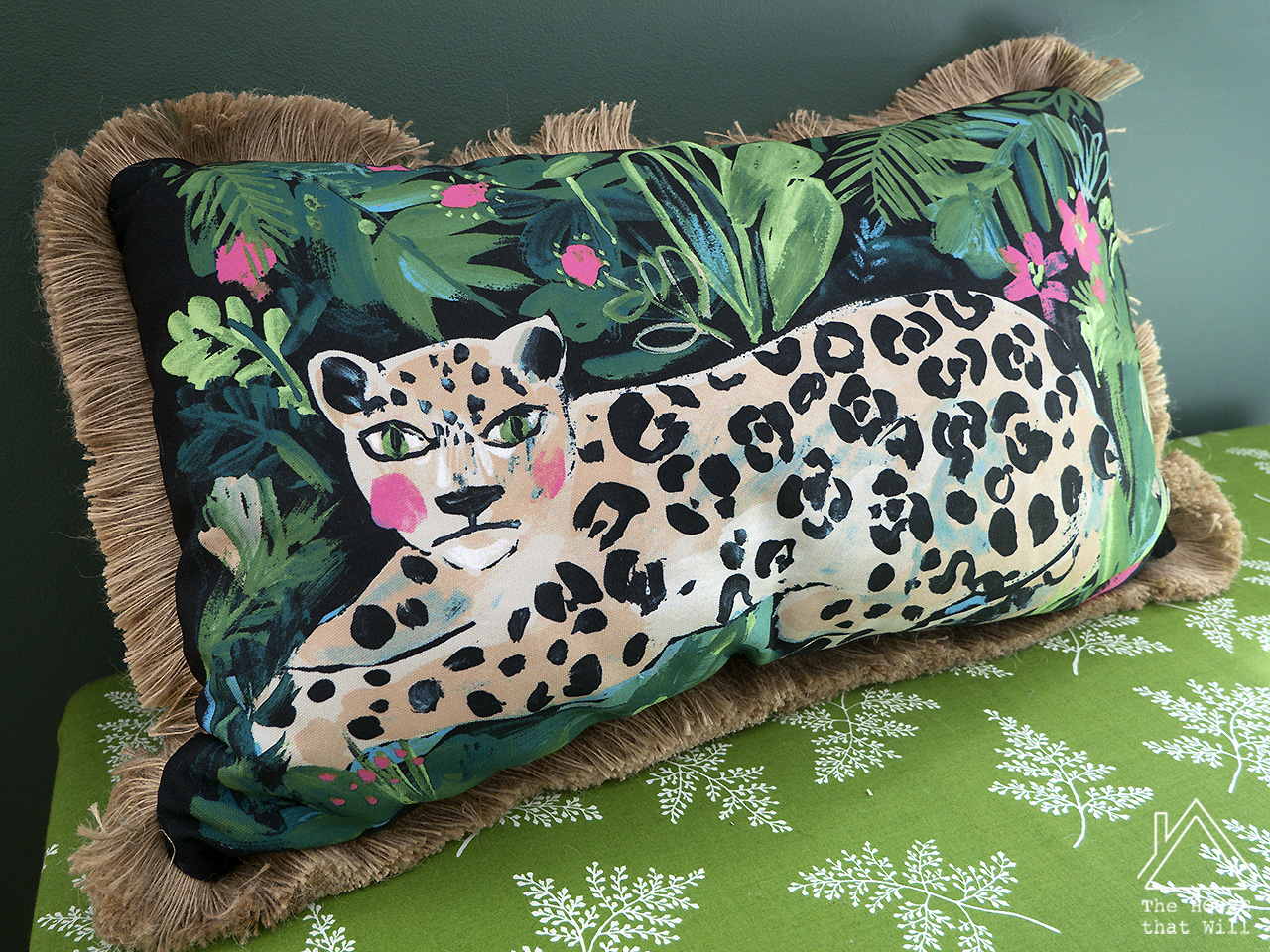 Workspace
The table in this room is a family heirloom that I started restoring some years ago. However, it needed a new tabletop and I hadn't got around to replacing it til now. I had just used a loose piece of board placed on top, but it was too small for the table and moved about as I tried to work. I spent a long time considering what kind of new tabletop I wanted ... and indeed spent too long deliberating for it to be finished on time for this challenge. However, I'm glad I took some time to decide as my current plan is much better than my original idea. I promise to post about that when I get it done, but in the meantime I have a new temporary tabletop that works so much better for me. It is the right size to hold my cutting mat and doesn't move about when I work!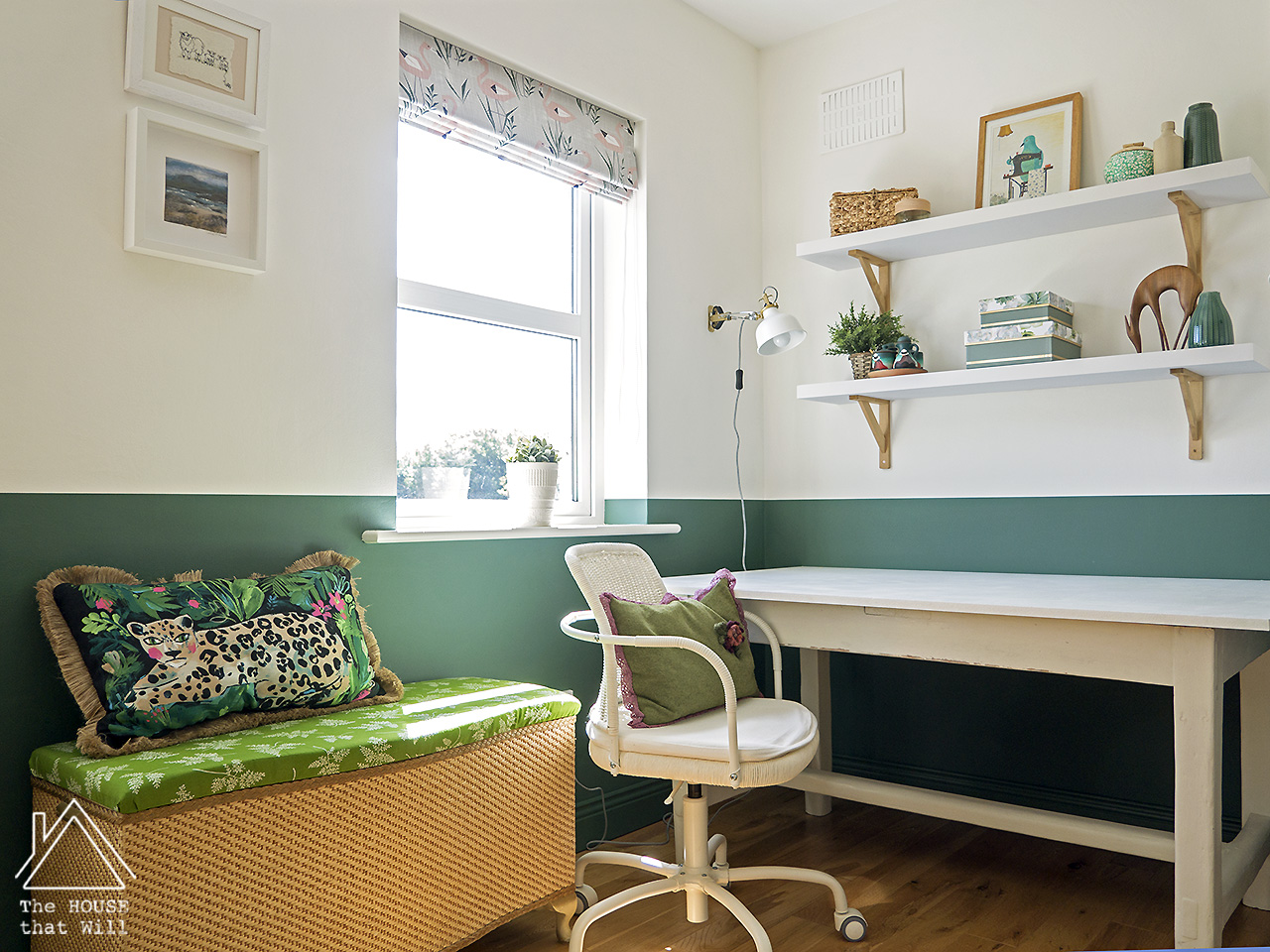 Above my worktable, I installed some new shelves that hold a combination of practical-but-pretty storage and some decorative items.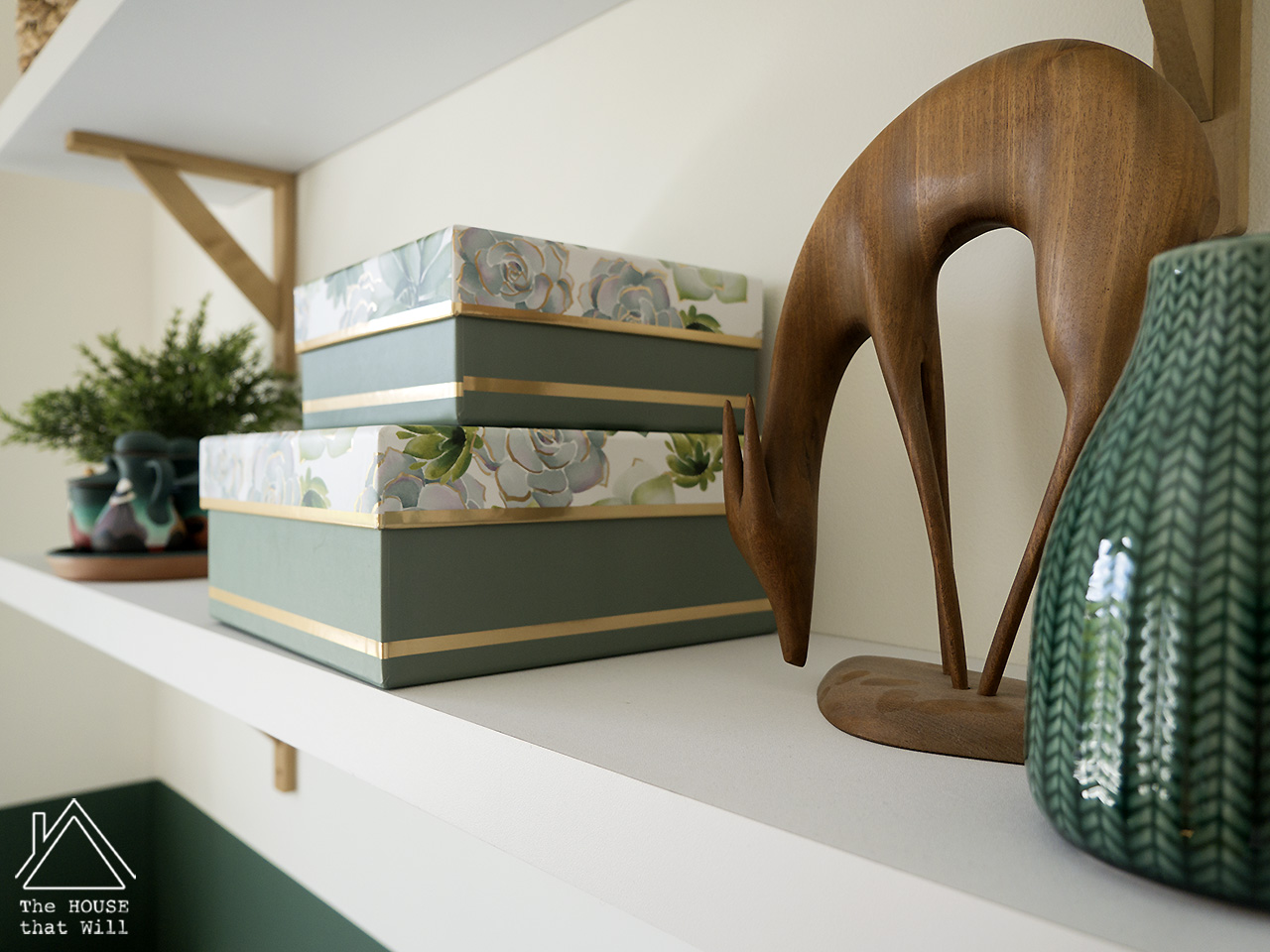 I also augmented my workspace with a new trolley. It holds my sewing machine and sewing supplies, and can be wheeled over by my side when I'm working or stored against the wall out of the way when I don't need it.
Lighting
I exchanged the ugly old lightshade for this lovely knitted one that suits the textile theme in the room.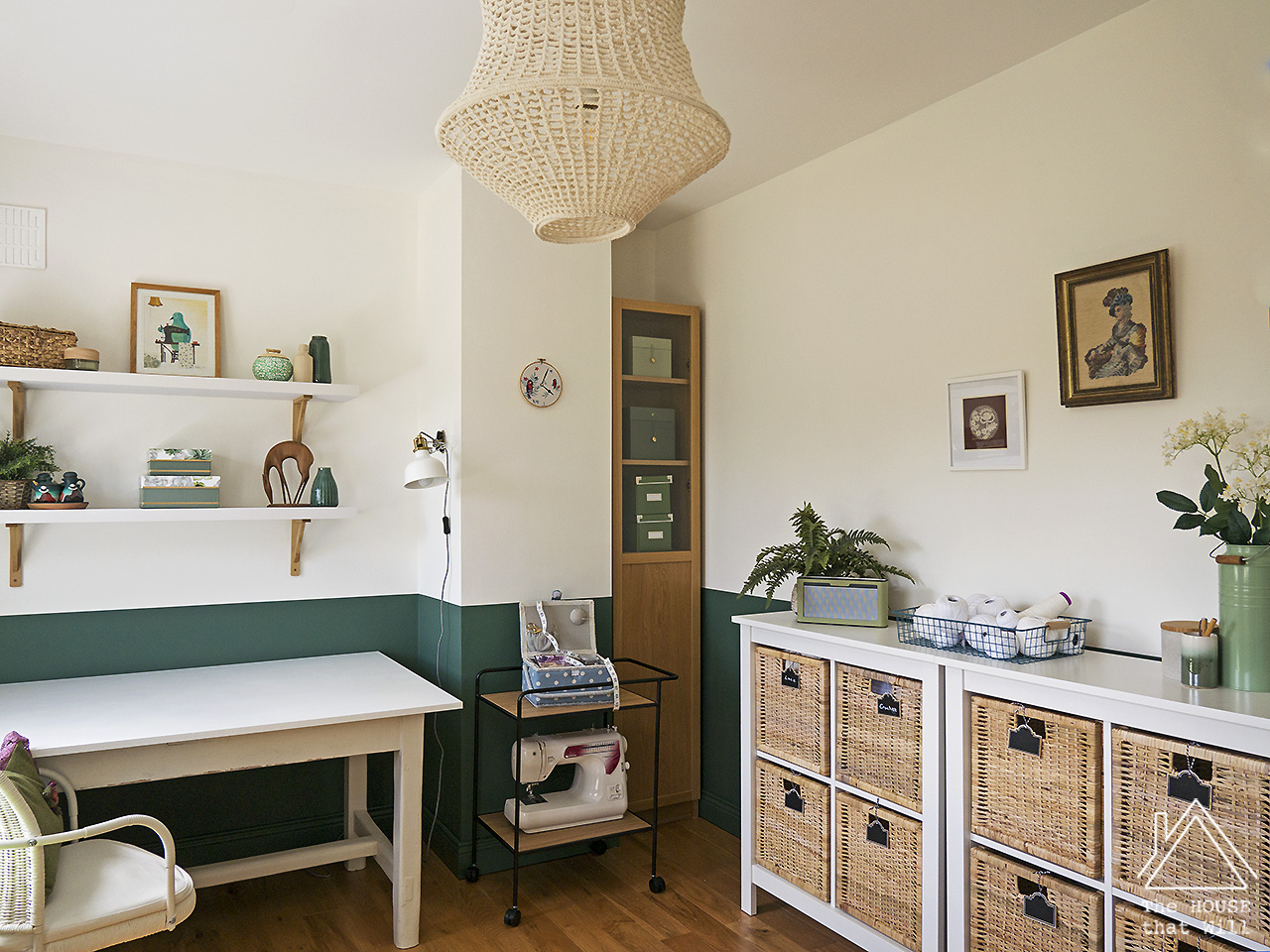 I also added a pair of sconces either side of my worktable.
Accessories
Almost all the decorative items in this room have a textile theme; from the knitted effect vases to the embroidered artwork.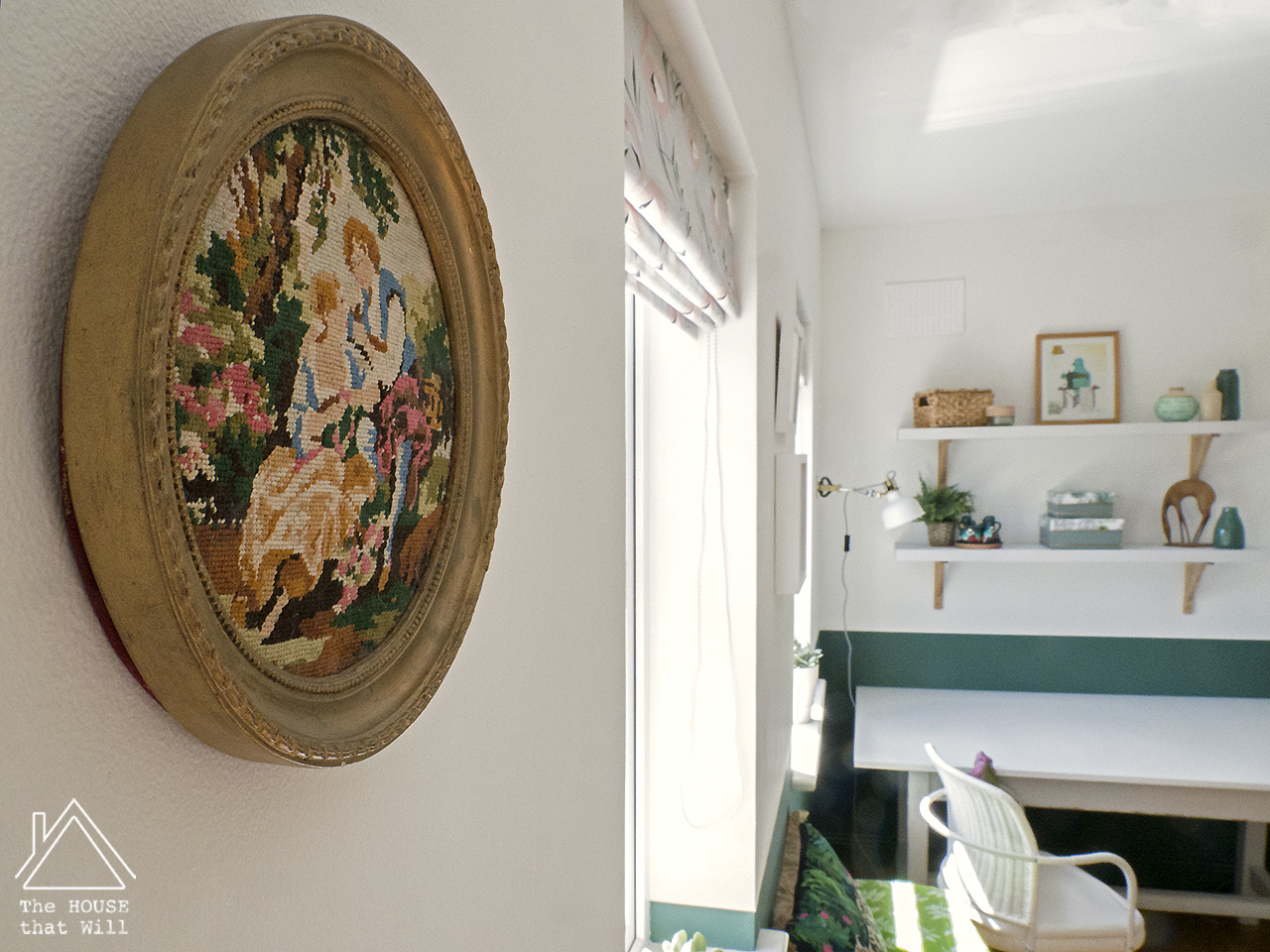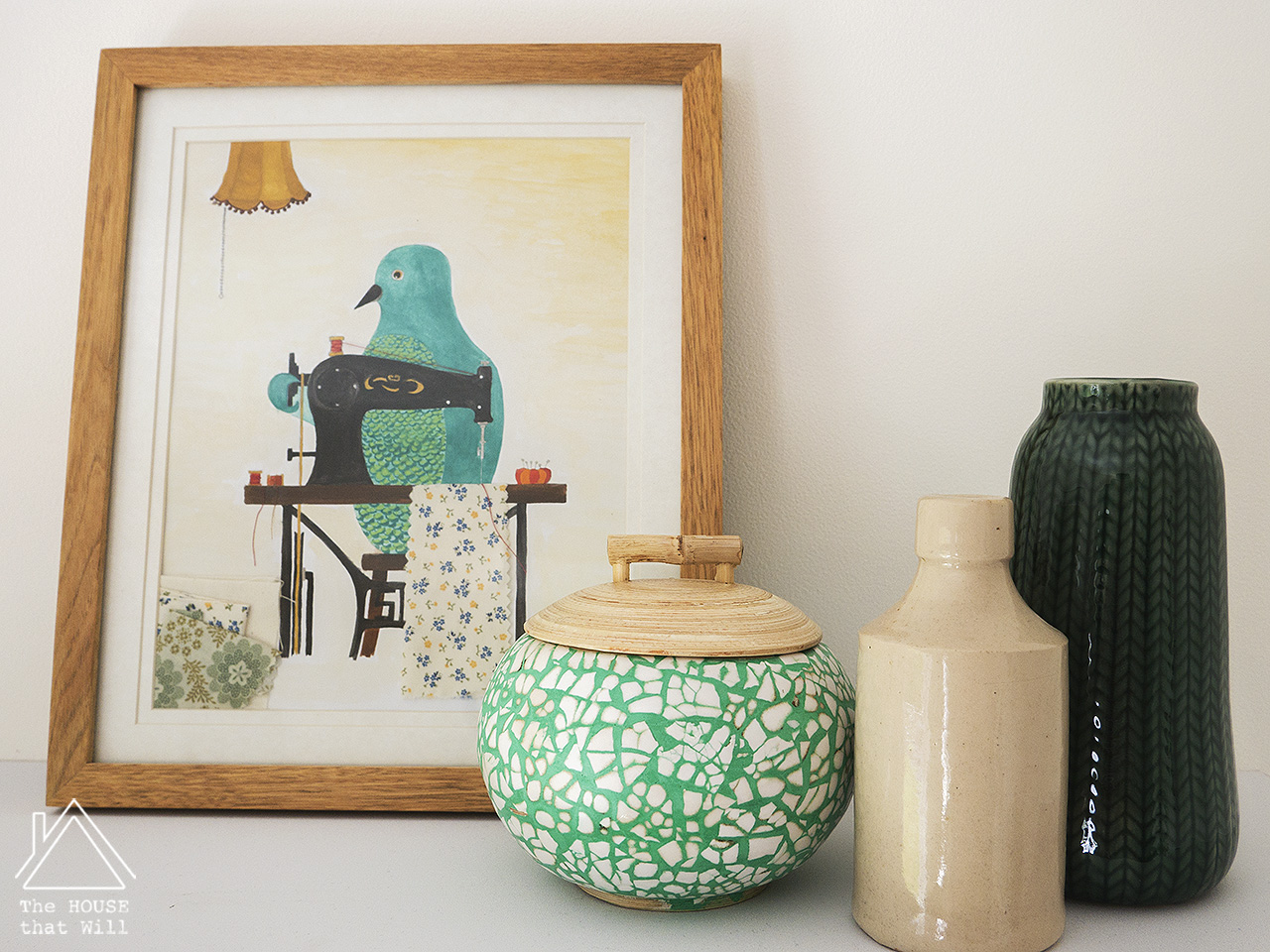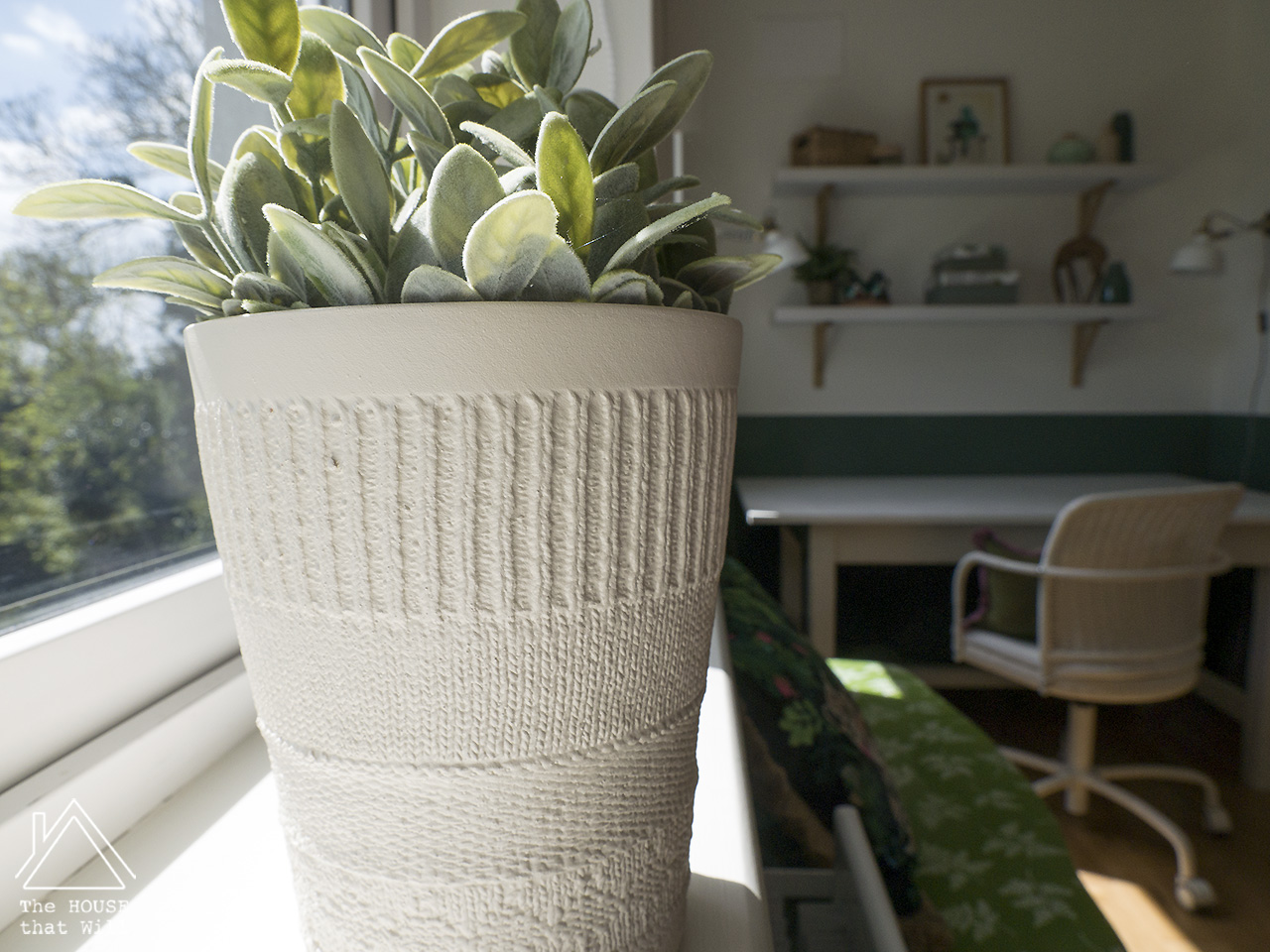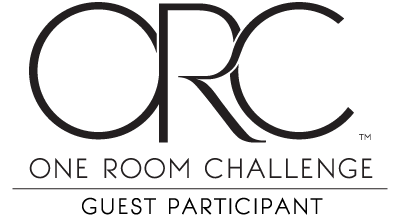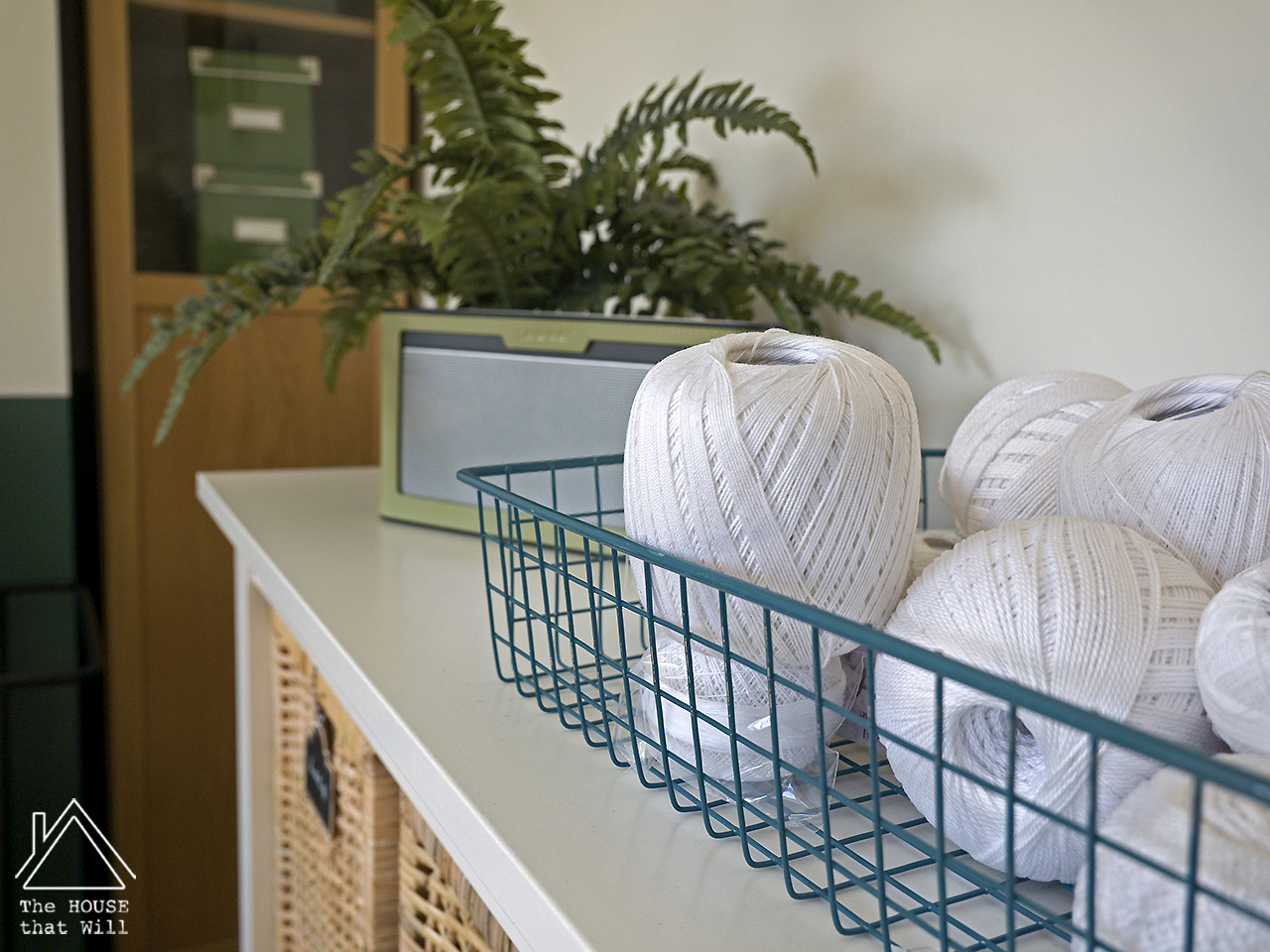 I am so grateful to Linda for establishing and running the One Room Challenge. Any workspace needs to function well, but I would have continued to struggle with a lack of storage and an unsuitable worksurface in my craft room had it not been for the motivation provided by the challenge. Now it is a joy to work in my craft room, and I look forward to many years of crazy creations being produced in it!
SOURCES:
Wall paint (top): Almost White by Colourtrend (Nationwide).
Wall paint (bottom): 0704 Plateau by Colourtrend (Nationwide).
Ceiling paint: Dulux Ceiling Paint (Dulux stockists nationwide)
Skirting Boards: 0704 Plateau by Colourtrend (Nationwide).
Floor: Prefinished white oak from Joyces (Headford).
Table: Antique
Rattan Swivel Chair: Gregor from Ikea (Dublin).
Bookcase: Billy range from Ikea (Dublin).
Linen Cabinet: Hemnes range from Ikea (Dublin).
Storage Cabinets: Tomnäs from Ikea (Dublin).
Storage Baskets: Branäs from Ikea (Dublin).
Pendant Light: Industriell range from Ikea (Dublin).
Wall Sconces: Ranarp range from Ikea (Dublin).
White Wall Shelves: White Matt Floating Shelf from B&Q (Galway & Nationwide).
Shelf Brackets: Natural Oak Effect Wood Shelf Bracket from B&Q (Galway & Nationwide).
Round Tapestry: Antique.
Felted Landscape: Jenny O'Farrell.
Embroidered Sheep: Andrea McNeill.
Embroidery Hoop Clock: DIY.
Tapestry Portrait: Vintage.
Lace: Lepoglava, Croatia.
Mad Hatter Poster: Find similar on ebay.
Framing: Express Frames (Galway).
Wood Deer: Vintage.
Bird Artwork: Gift.
Floral Storage Boxes: TK Maxx (Galway & Nationwide).
Faux Plants: Ikea & TK Maxx.
Green Storage Boxes: Søstrene Grene (Athlone & Nationwide).
Green Knit-effect Vases: Home Focus at Hickeys (Galway & Nationwide).
Stoneware Vase: Antique.
Glass Storage Jar: Søstrene Grene (Athlone & Nationwide).
Ceramics: Gift (from Peru).

Related posts:
One Room Challenge: Craft Room (Week 5)
One Room Challenge: Craft Room (Week 4)
One Room Challenge: Craft Room (Week 3)
One Room Challenge: Craft Room (Week 2)
One Room Challenge: Craft Room (Week 1)